Suspended Sawing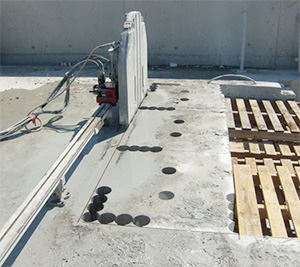 B&S is on the cutting edge of concrete and sawing Perth services, specialising in suspended concrete sawing. Suspended sawing is most often used in renovation work where penetrations are required to be cut for new lift shafts and stairwells.
The machine that is used for this type of work can vary depending on what is required in each situation – whether it is a floor saw, wall saw or stitch drilling.  No other concrete sawing companies in Perth can match our flexibility and skill in this technical area.
Every member of our concrete and sawing team has a minimum of 12 months on-the-job training before working in the field as a machine operator.
Additionally, all operators follow strict safety procedures to ensure the work is carried out with minimum risk and to the highest standard.
Click here to contact us or make a booking for our suspended sawing services.