Concrete Scanning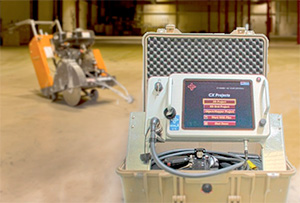 B&S Concrete cutting service offers a range of specialised concrete scanning, drilling and sawing solutions from commercial construction to civil and mining industries.
With over 20 years experience in the industry and the support of the major diamond tool suppliers, we have the expertise to provide the solutions to your concrete sawing & drilling project.
Concrete Scanning using GPR (Ground Penetrating Radar)
We use the Mala CX series Ground Penetrating Radar which combines Radar and Electro-Magnetic technology to locate and identify energized power cables, rebar, post tension cables, metallic and non-metallic conduits in concrete slabs.
We are able to provide the following services:
Quality Assurance Control of new structures
Inspection of the inside of new construction
Inspection of the inside conditions of existing constructions for rehabilitation purposes
Inspection of walls, floors, decks
Inspection of support columns & beams
Inspection of tunnel walls, roofs, inverts
Inspection of parking lots, garage
Location of re-bars, conduits, tension cables
Location of voids behind walls, under the concrete
Mapping the thickness of concrete layers
Mapping the thickness of bridge decks
Detects metal and non-metallic objects
Location and identification 50/60Hz power cables