Diamond Core Drilling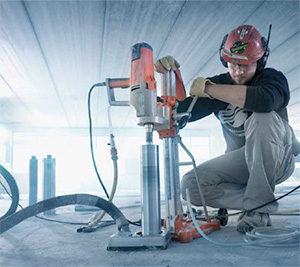 B&S Concrete Cutting is the premier Perth core drilling company.  Our flexibility and reliability ensure that your diamond core drilling project is completed efficiently and effectively with expertise gained from over 20 years of experience.
Diamond core drilling is dust-free, quiet and capable of cutting through steel reinforcing with little difficulty, unlike percussion tools which can spread stress cracks through the concrete.  Core Drilling is the most effective way of creating holes in concrete and brick for plumbing and electrical installations.  As the leading edge Perth core drilling company, we provide holes 10mm-500mm in diameter and virtually unlimited depths.  Core drills can be operated in vertical, horizontal and inverted positions for use in a confined space.  We have a range of core drills and sizes to suit most diamond core drilling applications.
Core drilling is commonly used to create the holes for routing cables or for placing anchor bolts, for installing load-carrying devices or for concrete sample analysis.  B&S Concrete Cutting use the latest in state-of-the-art diamond cutting technology for reliable diamond core drilling.
All of our concrete cutters have a minimum of 12 months on-the-job training before working in the field as a machine operator. In addition, all operators follow strict safety procedures to ensure the work is carried out with minimum risk and to the highest standard.
Click here to contact us for more information on our diamond core drilling services.