Hand Sawing and Brick Cutting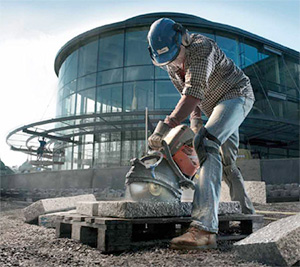 B&S are the Perth leaders in brick cutting, with the highest premium quality diamond concrete sawing blades and state-of-the-art equipment. We can cut through most steel reinforcing that is found in concrete walls and floor slabs to create any opening that is required by the client.
Hand sawing is a cost-effective method of brick cutting and penetrating concrete and brick walls 150mm thick.  It is also used to cut concrete floors in confined areas where a floor saw is not practical.
Our hand saw brick cutting equipment can be used indoors, even in confined areas, as we have the option of fitting fume extraction.  We also utilise a range of hydraulic hand and floor saw equipment if necessary.
Hand sawing is commonly employed when general wall sawing can't be performed.  Our concrete cutters use this type of saw for cutting openings in poured foundation walls for electrical, plumbing and HVAC openings.
All of our concrete cutters have a minimum of 12 months on-the-job training before working in the field as a machine operator.  In addition, all operators follow strict safety procedures to ensure the work is carried out with minimum risk and to the highest standard.
Click here to contact us to find out more about our hand sawing and brick cutting services.